Evilpulse
is
Doublepulse's
alter-ego in Minecraft.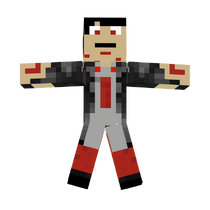 Appearance
Unlike previous Doublepulse's skins, Evilpulse has a paler skin, making him look evil. Evilpulse has black hair and red eyes. He wears a grey suit, along with pants and on top of the suit, he wears a black jacket.
History
Main article: Tekkit:Evilpulse
Evilpulse makes his debut in Tekkit series created by LnDProductions. He's the antagonist of the series. So far, he didn't appear in anywhere else, but he might return.
Abilities
Evilpulse's stats in Minecraft
Knowledge
Creativity
Teamwork
Parkour
Talking
Acting
Friendly
Hostility
Activity
Leadership