Summer Adventure
Event
Title
Summer Adventure
Organized by
Valve (Steam)
Participants
Five
About
Big discounts on Steam
Event dates
Status:
Ended
Event Started:
June 19, 2014
Event Ended:
June 30, 2014
Summer Adventure (also known as Steam Summer Sale 2014) was a sale of video games with big discounts on Steam in 2014, which lasted from June 19th until 30th.
The sale features a unique selling method where people are assigned to a random team (red, blue, purple, green or pink) and they have to craft badges in order to get the points for their teams. Every day, team with the most points win and 30 members of that team can get 3 games from their wishlist.
How it works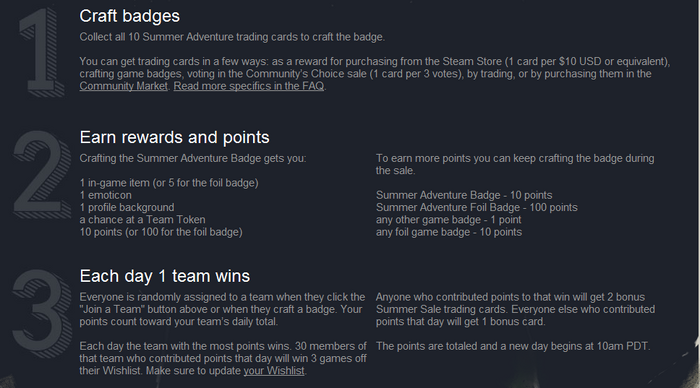 Conclusion
On June 29, it was announced the Red team is victorious.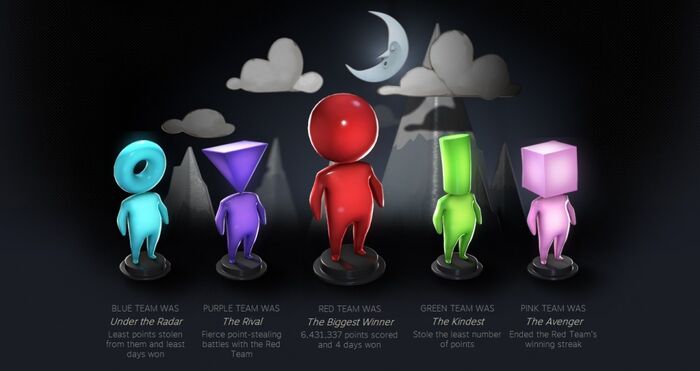 Teams
Red Team (Won Day 2, Day 6, Day 7, Day 8)
Blue Team (Won Day 5)
Green Team (Won Day 3)
Purple Team (Won Day 1)
Pink Team (Won Day 4, Day 9, Day 10)
Community content is available under
CC-BY-SA
unless otherwise noted.